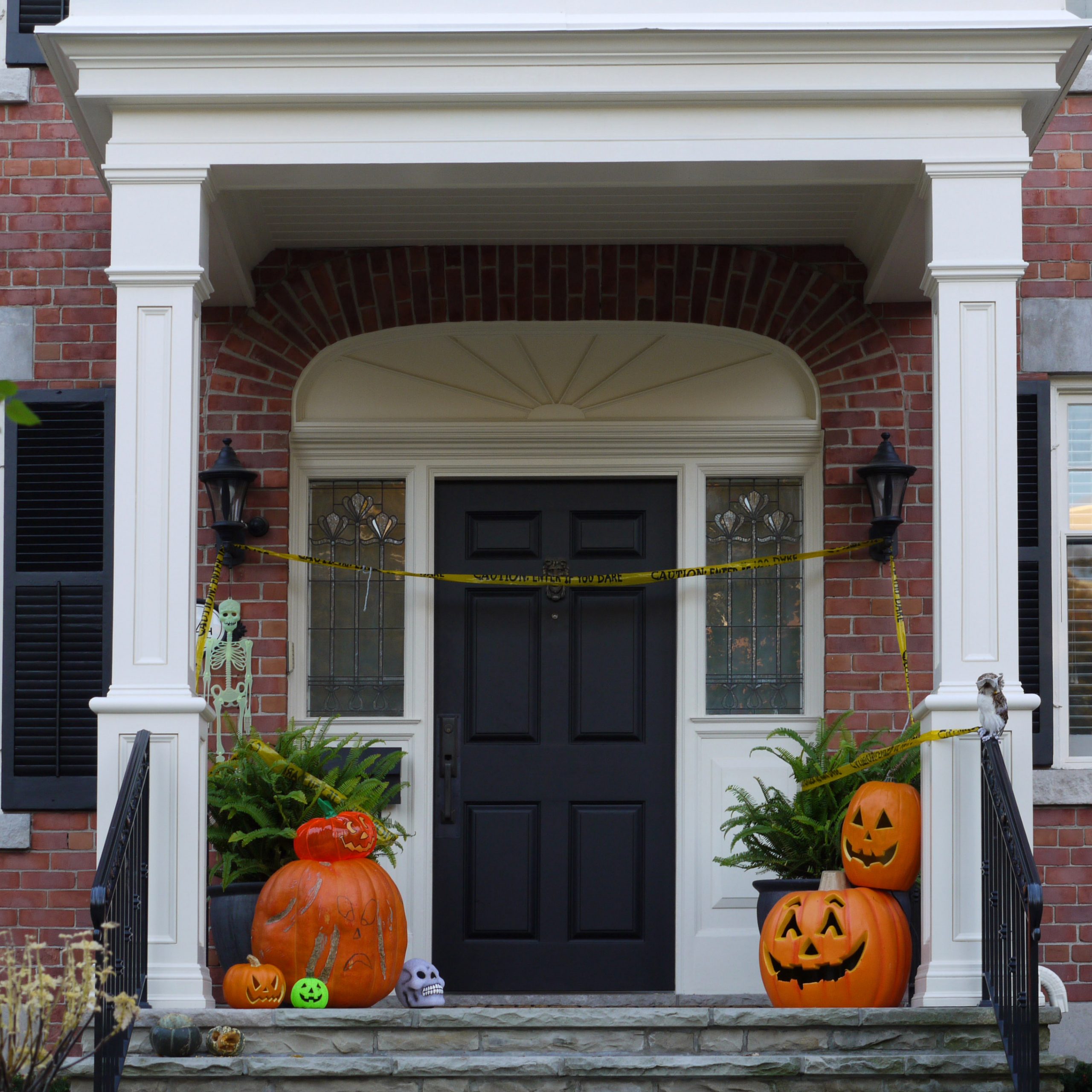 Creative Halloween Decorations for Your Front Porch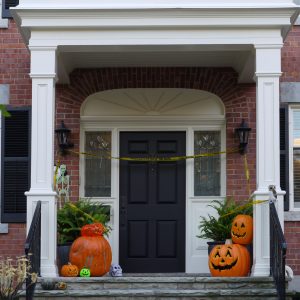 If you are in need of fresh and creative ideas for outdoor Halloween decorations, then you have come to the right place. Every year on Halloween, people are perplexed in terms of coming up with new ideas on how to decorate their front porches, entry gates, exterior columns, outdoor railings as well as their patios and decks. Below, we have gathered some fun and interesting decoration ideas that are sure to terrify anyone who dares to approach your property.
Halloween Decorations for Outdoor Railings
This Halloween, there is no need to fear decorating your home. Even if you are working on a budget and making the decorations yourself, there are plenty of ways you can put your own creepy spin on traditional Halloween decorations. For outdoor railings, you can use all sorts of different and fun varnishes like multi-coloured streamers, ribbons, or cobwebs with little or giant spiders all over them (fake ones, of course!). You can even go the extra mile and add your own flair to the traditional decorations by referencing your favourite movies and books. A good one is The Nightmare Before Christmas; you can mix in tiny candy canes with the spiders in the cobwebs and even hang little Jack and Sally ornaments from the outdoor railings amongst the other decorations.
Creepy Halloween Décor for Entry Gates
Entry gates are a great tool to creep out your neighbours throughout the entire night because they allow you so much versatility to let your creativity shine. You can have them mechanically programmed to open up on their own every few minutes, blaring Vincent Price-inspired maniacal laughter in the background. Additionally, you can also have "Thriller" and other creepy Halloween-themed songs playing on a loop in the background with dry ice or even a smoke machine releasing fog into the air.
Once your guests make it past your ultra-creepy entry gates, you can spook them even more by having bones, decayed skeletons, and body parts along with graves covered in fake moss sprawled all over your front lawn. When they finally make it to your front porch to get their candy, you can use teal pumpkins to signify to children and their parents that you are offering allergy-free snacks. Teal pumpkins are all the rage this year and you can decorate them in so many different ways. Coupled with classic white pumpkins, they are a nice diversion from the traditional orange pumpkins that are everywhere. The kids will be so amazed by your innovative use of teal and white pumpkins that they will not even notice that you have covered the outdoor railings in sticky putty or that you have fake blood trailing all over the place until your porch lights come on and you jump out of the shadows, sending them running and screaming all the way down the street.
Secret Hanging for Front Porch Column
Exterior columns on your front porch can also be another canvas for your Halloween decorative creativity. Depending on the size of your front porch column, you can make it look like giant vampire or monster teeth that will devour your trick-or-treaters whole, or you can even make them look like the fiery gates of Hell if you want to dress up as a cheeky devil. Since horror movies and TV shows are very popular this time of year, you can even create a Walking Dead- or Supernatural-themed front entryway. You can use the exterior columns to recreate Hershel's zombie barn with fake bloodied limbs sticking out and zombie noises playing on a loop and crazy lighting effects.
Spooky Ideas for the Patio and Deck
If you really want to go all out with the Halloween decorations this year, then you should also spruce up your patio and deck otherwise they will look bland and out of place. Chicken wire can go a long way in making your Halloween DIY decoration dreams come true! You can shape it to look like pretty much anything you can think of: ghosts, ghouls, monsters, spiders, and more. You can even make it look like silhouettes of creepy monsters, which will add even more suspense to your entire yard. Fake melted candles or tea lights covered in fake black barbed wires and creepy crawlies dispersed all over your patio and deck area can also create a sinister haunted house atmosphere.
CPL Aluminum Railings & Glass is a Canadian company founded in 1989. We are a leader in the manufacturing, supply, and installation of aluminum and glass railings in the GTA and Ontario. All our offerings are rust free, ensuring years of maintenance-free reliability. For more information, please call (905)-850-5590 or e-mail cplaluminumrailings@bellnet.ca.