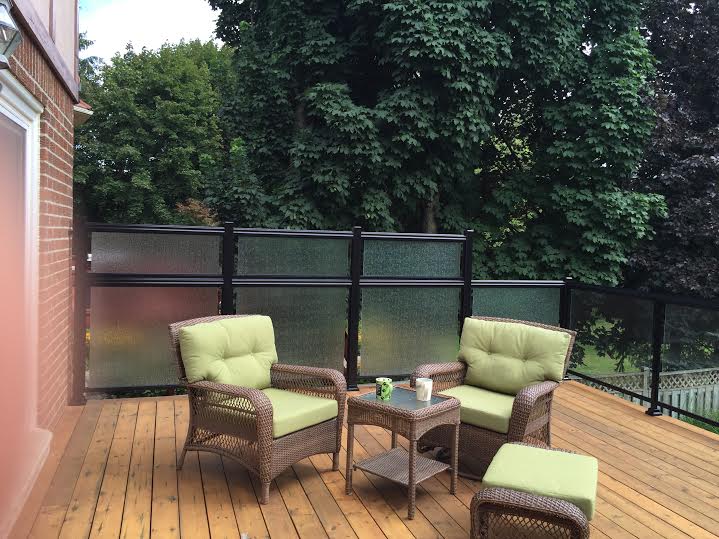 How Can Aluminum Privacy Panels Make Outdoor Spaces Better?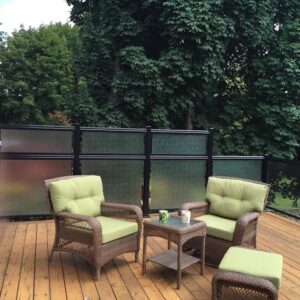 If you're a homeowner, you may not have considered using aluminum privacy panels on your property, but more and more people are beginning to realize the benefits.
Do you want privacy from your neighbours? Or, do you want to create a private, outdoor space that looks visually appealing and not closed off? If so, you may have realized some of the challenges that face homeowners who want to add privacy to their decks, backyards, balconies, and patios.
Almost every homeowner wants privacy. However, while getting privacy indoors is as easy as using drapes or blinds, it can be difficult to find options for your outdoor space without fencing off your property. Luckily, aluminum privacy panels now provide a more high-end, luxurious look while also ensuring privacy on you property. These privacy panels feature aluminum frames with glass, wood, or aluminum panels, providing property owners with many choices for selection.
Benefits of Aluminum Privacy Panels
Here are just some of the top benefits of aluminum privacy panels.
Long Lasting and Maintenance-Free
One of the prime benefits of aluminum privacy panels is that it does not rot or warp like wood, nor does it rust like metal. This makes it the most durable, low maintenance option for outdoor additions like privacy panels. While wooden fences require regular maintenance, as they rot when exposed to wet weather conditions, aluminum needs minimal upkeep. In fact, aluminum privacy panels do not even need painting, and they can last for decades without any repair or minor upkeep. They are also termite and insect resistant.
Blocks Sun, Wind, and Rain
When you spend a lot of time outdoors, it can be easy to become sunburnt and damaged from UV rays. Harmful UV rays can even cause property damage over time, peeling paint or bleaching wood. With aluminum privacy panels, you can block harmful sun rays from your deck, patio, or backyard, or even from hitting the side of your house (which can heat your home and raise your A/C costs). Aluminum privacy panels can also help control other weather conditions, blocking wind from your deck or helping shield rain.
Provides Privacy Between Neighbouring Houses or Apartment Buildings
Privacy is a major concern for many homeowners. Unless you live out in the country, you likely have neighbours, who may have direct sightlines onto your property. If you want to enjoy the outdoors with some privacy, then aluminum panels can create boundaries between you and your neighbours while providing attractive design options for your property. Privacy panels can help make your space feel more relaxing, secure, and safe.
Enhances the Appearance of Residences and Apartments
Privacy panels are commonly used by condo developments, property management companies, and landlords as a great way to enhance the appearance of property. Aluminum privacy panels can be used in a variety of colours and designs that match the look of any style. While other privacy options can end up looking intimidating or unsightly (such as large fences or walls), privacy panels provide a sleeker, more luxurious look.
Low Cost for Designs and Installation
When doing renovations for your property exterior, costs can quickly spiral out of control. Often, property owners have to invest a lot of money in extensive renovations and may not end up being satisfied. Aluminum privacy panels can provide luxury for a lower cost than other renovation options. As well, installation is easy, requiring no extensive machinery or construction. Look for suppliers that can also handle your installation needs.
Why Choose Us?
CPL Aluminum Railings & Glass provides aluminum privacy panels for all types of properties, from chic residential houses to cottage getaways to commercial properties. Our privacy panels use durable aluminum frames with glass or natural tongue and wood cedar panels, providing privacy while protecting your property from the outdoor elements. At CPL Aluminum Glass & Railings, we handle the entire process, from design to delivery and installation. Whatever type of property you have, we can work with you to find the right solution.
CPL Aluminum Railings & Glass is a Canadian company founded in 1989. We are a leader in the manufacturing, supply, and installation of aluminum and glass railings in the GTA and Ontario. All our offerings are rust-free, ensuring years of maintenance-free reliability. For more information, please call (905) 850-5590 or email cplaluminumrailings@bellnet.ca.