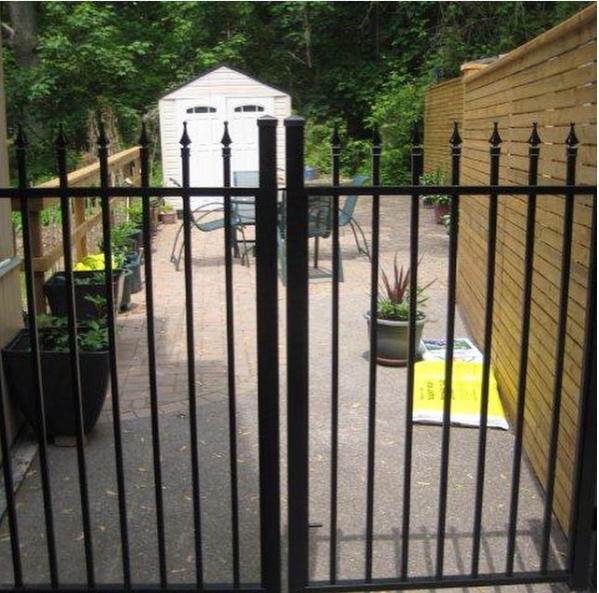 Garden Gate Designs for Beautiful Backyards
A garden gate is so much more than just a protective barrier between your backyard and outsiders; it can be either a grand or minimalistic statement piece that gives guests and passersby a peek into the enchanting world that is your backyard. It can yield intrigue, wonder, excitement, and delight as people enter the rear of your home and it also affords you the opportunity to put a creative twist on a necessary extension of your home. The design of your garden gate sets the tone for the rest of your backyard.
Aluminum Gate Design and Privacy
Aluminum is one of the best materials on the market when it comes to installing a gate for a garden because it is sturdy, resilient, weatherproof, and stylistically versatile. Depending on the layout of your garden and your own personal style choices for the exterior of your home, there are so many different things you can do with an aluminum gate. You can focus on the design aspect or the privacy aspect of the gate without having to compromise either one.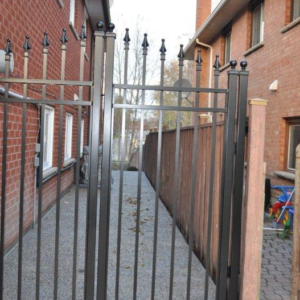 Design-Based Aluminum Gate
The possibilities here are only limited by your tastes and imagination. You can either go for a very simple straight bar barrier or you can choose something with more detail. Powder-coated aluminum is very low-maintenance, insusceptible to harsh weather conditions, and it is guaranteed to last for many years to come. Occasionally, you might have to give it a good wipe down in order to keep it looking it clean, crisp, and fresh, but other than that, there is no hard labour required to sustain it.
Privacy-Based Aluminum Gate
Design-based and privacy-based garden gates are not necessarily mutually exclusive and you do not have to choose one over the other. Whether you want to have an open- or closed-concept gate for your garden or backyard has to do with your personal preferences. An aluminum gate can work well with other materials. For instance, if you want to create a nice, rustic feel for your backyard, adding a lovely wood finish is the way to go. Or, if you want to use a more maintainable material, you can opt for either a clear or frosted glass.
Glass Gate Design and Privacy
Glass is another optimal material for creating a customized garden gate. Glass gates are framed with aluminum for support. It is versatile in the sense that it can serve different functions whether you choose clear, tinted or frosted glass.
Design-Based Glass Gate
Integrating glass into the design of your garden gate is a great way to enhance the look of your backyard without obscuring it from your neighbours. This works both ways because with a glass gate your view of your neighbourhood or front yard will also remain unobstructed and there are so many unique styles to choose from.
Privacy-Based Glass Gate
This includes frosted glass, providing a great deal of privacy as well as a whole different level of design options. If you have young children who often play in the backyard, it is more reasonable to opt for a frosted glass gate to maximize the privacy and safety of your family.
CPL Aluminum Railings & Glass is a Canadian company founded in 1989. We are a leader in the manufacturing, supply, and installation of aluminum and glass railings in the GTA and Ontario. All our offerings are rust free, ensuring years of maintenance-free reliability. For more information, please call (905)-850-5590 or e-mail cplaluminumrailings@bellnet.ca.