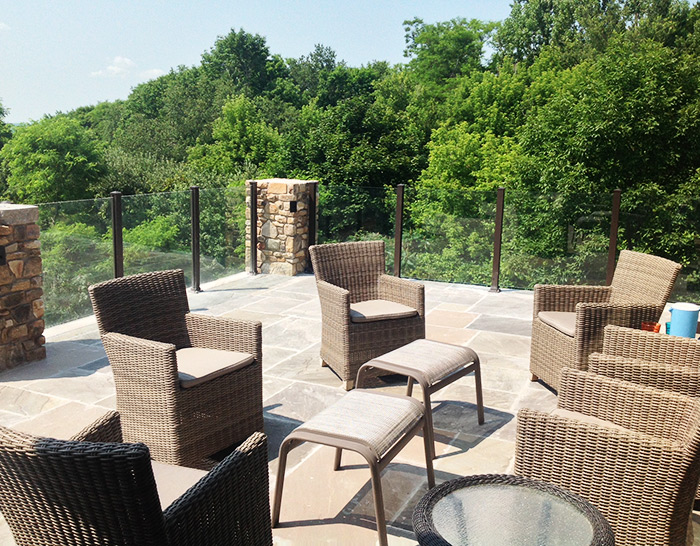 Benefits of Using Topless Glass Railings for Your Home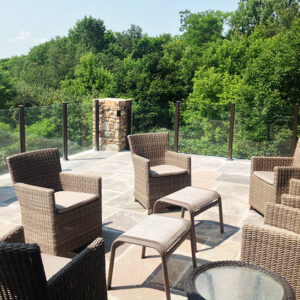 When it comes to outfitting your deck, topless glass railings are one of the premier options available. While commercial properties, like restaurants, hotels, and condominium complexes, have used glass railings for years, many homeowners still opt for the standard, traditional metal and wood railings. However, topless glass railings have many distinct advantages over other options, and using topless railings in Ajax or any other region in Ontario can have many benefits for your home.
Unobstructed View and Uniqueness
Topless glass railings provide both a unique look and an enhanced view for your home. Topless glass railings are the only type of railing that provides completely unobstructed views, as they do not have a top barrier. Topless glass allows your deck to capture scenic views and vistas, making them the perfect option for cottages, vacation homes, and rooftop terraces. These railings can seamlessly integrate the outdoors with your deck.
Topless glass railings can also set your home apart from the crowd, adding a luxurious look that few other properties can match. As topless glass is still mostly used by high-end commercial properties, the clean modern look will help separate your home and provide a unique style.
Contemporary Aesthetic
For a clean, sleek, modern look, there is nothing better than topless glass railings. Topless glass railings have a modern aesthetic that separates them from wood and metal models. Glass railings can add sightlines and light to your deck, as well as open up a space. No other type of railing can change the dynamic of your deck or patio like topless glass railings can.
Durability
Most railings require extensive upkeep and maintenance over the years. Topless glass railings are essentially maintenance-free, requiring no regular upkeep, repair, or touch-ups. Topless glass railings do not rust, corrode, rot, warp, or stain. They do not require refinishing or repainting. In fact, all glass railings need is an occasional cleaning, which is why they are considered durable and weather-resistant.
Safety
While most people would think wood is sturdier than glass, this couldn't be further from the truth when it comes to railings. Wood railings are susceptible to rot and water-damage, which means that their safety can be diminished with exposure to outdoor weather. Rotted railings can give way, causing accidents or even death. Glass railings are more durable. As well, reputable manufacturers make topless glass railings using safety tempered glass, ensuring that the glass has an increased strength and durability over other types of railing.
Lots of Design and Privacy Options
One of the great things about topless glass railings is that there are many design options available. Frames come in a variety of colours and styles, while glass panels are available in different textures and with options (tinted glass, textured glass) for increased privacy. Topless glass railings can match any design or style to fit in seamlessly with your property.
Increase Your Home Value
Topless glass railings are both functional and aesthetically-pleasing, which means that they can add value to your home. Since topless glass railings are a premier option that is considered more luxurious than standard wood or metal, a simple addition to your deck can change perceptions of your home and the dynamic of your property.
Easy and Fast to Install
While topless glass railings are high-quality option, they care also an affordable option for homeowners. Topless glass railings can also be installed in as little as one or two days. These railings provide a high-end look to your home. For an a quick installation process, look for manufacturers that can deliver and install your railings too.
CPL Aluminum Railings & Glass is a Canadian company founded in 1989. We are a leader in the manufacturing, supply, and installation of aluminum and glass railings in the GTA and Ontario. All our offerings are rust free, ensuring years of maintenance-free reliability. For more information, please call (905) 850-5590 or email cplaluminumrailings@bellnet.ca.