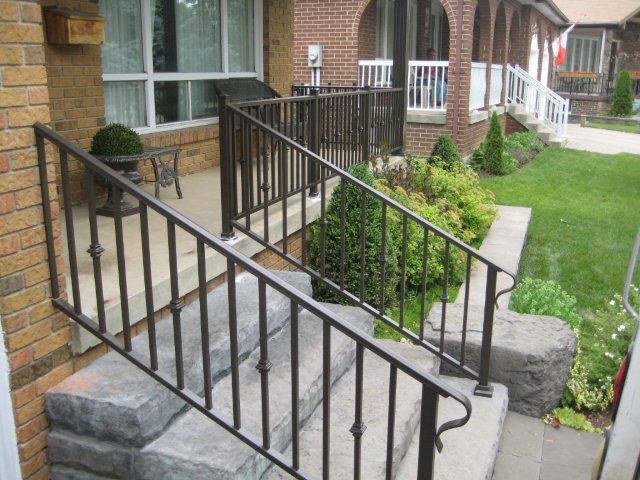 Why Choose Wrought Aluminum Railings Over Wrought Iron Railings?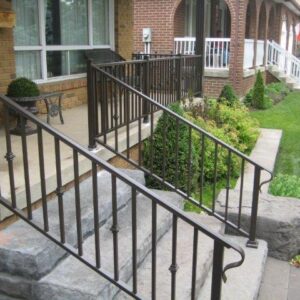 For their elegant appearance, wrought iron railings are a very popular choice for houses, but wrought aluminum railings are another option that can sometimes be a more suitable choice.
When choosing railing materials for your home, it's important to consider the advantages and disadvantages of each type, including cost, maintenance, durability, and safety. Some people may choose railings based solely on their appearance. However, particularly when two railings types both look the same (such as with wrought iron and wrought aluminum), it makes sense to look at the differences between the two.
Choosing Wrought Aluminum Railings over Wrought Iron Railings
There are many reasons why some homeowners opt for wrought aluminum railings over wrought iron railings.
Durability
Compared to wrought iron railings, aluminum railings are a more durable option. Wrought iron railings are a heavy duty material and can withstand damage from physical force, wear and tear, and heavy use. However, iron railings are easily damaged by weather conditions. In particular, iron railings are susceptible to rusting. Aluminum railings, on the other hand, are more resistant to damage from outdoor weather conditions and can last for decades in good condition.
Low Maintenance
Aluminum railings are low maintenance, requiring no regular upkeep or repair. With aluminum railings, even painting is unneeded, as powder-coated aluminum can retain its appearance for years or even decades. Iron fencing often needs regular upkeep and repair, as well as repainting.
Variety of Options
One of the big advantages of wrought aluminum railings is the variety of options that are available. Aluminum is one of the most versatile materials to use for railings. Nearly any style can be achieved using aluminum. Wrought aluminum railings can almost identically mimic the look of wrought iron, using lamb's tongue designs and other elegant styles. Aluminum railings can also be done in any colour. These railings offer more versatility for homeowners, giving them more control over the appearance of their home.
Affordability
With all of its advantages, it might seem like aluminum railings should be one of the priciest types of railing, but they are actually very affordable. Aluminum railings are more affordable than many other types of railings, including wrought iron. As well, since aluminum railings can be expected to last years or decades, they become much more cost-effective in the long run.
Easy Installation
Aluminum railings are incredibly easy to install. In fact, installing aluminum railings requires no special machinery or extensive work. In less than a few hours, aluminum railings can be safely secured onto your deck, patio, balcony, or other property area. As well, the installation process can be done by a couple of experienced contractors as opposed to an entire team of professionals. This means even more savings for property owners.
Wrought Aluminum Railings at CPL Aluminum Railings & Glass
CPL Aluminum Railings & Glass manufactures, designs, and installs aluminum railings, as well as other low-maintenance railings that require no regular upkeep or repair. Our wrought aluminum railings offer property owners the greatest versatility, with a variety of styles and options. We offer wrought aluminum railings in a lamb's tongue design that mimics the look of iron fencing. Our aluminum railings are a cost-effective and long-lasting option for owners looking to add value to their property.
CPL Aluminum Railings & Glass is a Canadian company founded in 1989. We are a leader in the manufacturing, supply, and installation of aluminium and glass railings in the GTA and Ontario. All our offerings are rust free, ensuring years of maintenance-free reliability. For more information, please call (905)-850-5590 or email cplaluminumrailings@bellnet.ca